"I just want some nutrition advice."
"I want to improve your mood, sleep better, know what's for dinner and how to get it on the table."
"I want to lose weight."
"I have a simple question, but Dr. Google provides 27,365 answers."
So you look for a professional. Your friend knows a nutritionist. Your aunt suggests a health coach. Your cousin's sister in law's mother has a great dietitian.
But who is best for you?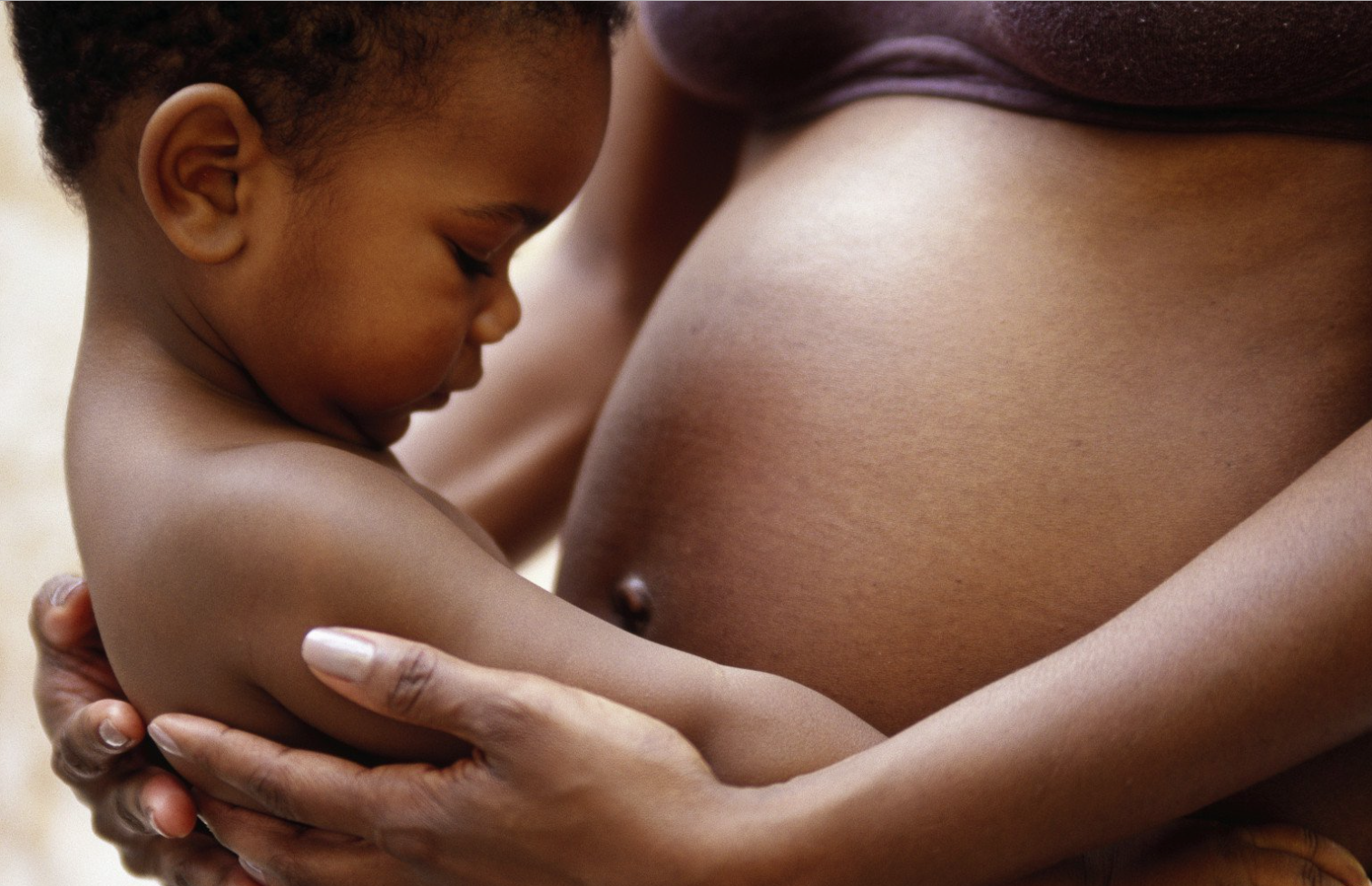 The alphabet-soup game can be so off-putting when you just want answers. So let's get you out of the muck.
The most common terms for nutrition professionals are nutritionists, dietitians, and health coaches. (By the way, to further confuse you, this information is applicable to the US and Canada only. In other countries, there are different regulations and professional titles!)
Of the three, "dietitian" is the only term with a solid, legal definition. A dietitian is someone who has earned at least one higher level degree in nutrition from an accredited university, completed an intense residency-style internship, and passed a national exam.
The internship is about 9-12 months long and provides classroom education coupled with intense, supervised experience in clinical nutrition, generally in a hospital; food service management, often school lunch management programs; and community nutrition, such as outreach programs or WIC.
Bonnie R. Giller, MS, RDN, CDN, CDE and former dietetic internship director says, ""Knowledge obtained in the classroom setting sets the foundation; the hands on experience in the clinical rotations brings it to life." Because nutrition is more than a checklist of macro- and micronutrients, the supervised experience is necessary to help the intern translate complex textbook concepts to real life situations.
A dietitian is required to maintain continuing education specific to his or her specialty, but always including a class in ethics for each 5-year recertification cycle. The two main credentials for Registered Dietitians are RD and RDN. There is no difference in education or experience, we simply have the option to be "Registered Dietitian" or "Registered Dietitian Nutritionist".
RDs and RDNs work in many different capacities. While we are best known for clinical work, many, like myself, take the community route by opening private practices or by working with outreach and education groups. Others work in foodservice management, or even in politics. Many supermarkets hire RDs both at the local market level and in purchasing and procurement.
A "nutritionist" is… well that depends on the person. There are many nutritionists out there who have gotten a certificate online through one of many programs, or have even just started using the title "nutritionist", much like how you can become an online minister with absolutely no credentials. (Side note, I'm available for weddings, funerals, and other religious occasions. Except for circumcisions. That was one of the few stipulations.)
Valentina Olivadese, MSHN, of Valiant Nutrition, holds a masters degree in Holistic Nutrition from the accredited American College of Healthcare Science. "Holistic nutritionists look at the role of food in the whole picture of a person's health — how food interacts and affects not only physical but also emotional, mental, and spiritual health. If someone is struggling with stress and emotional eating, and is looking for deeper meaning in their relationship with food, a holistic nutritionist might be their best choice."
Alyson Roux, MS, CNS, MFA, of Alyson Roux Nutrition, is a Certified Nutrition Specialist, commonly known as a "Nutritionist". "Because it is newer, most people are less familiar. The training is very similar to that of an RD; we are more prepared for outpatient/private practice, and less to work in hospital settings." CNS Nutritionists, like Registered Dietitians, can be hired in a clinical setting such as a hospital. These are the only two nutrition credentials eligible for hospital hire.
To earn the CNS credential, a candidate must hold a masters or doctoral degree in nutrition, clinical healthcare, or a related science field. They then must complete a 1,000 hour supervised training that looks a lot like a dietetic internship (read more about that here) and pass boards.
Let's confuse matters further. Some states, such as New York and Washington, certify or license Nutritionists. The requirements for this license vary state by state, but always include some amount of formal university education, usually followed by supervised practice or experience and a state-approved licensing exam.
"Health coaches" seem to be a dime a dozen these days. Just like the term "nutritionist", "health coach" is not legally defined and so can be used by anyone, regardless of education or experience. Some health coaches are certified in reliable specialties by solid institutions, Intuitive Eating, for example. Some are certified by questionable sources, such as weight loss centers and MLM product companies.
Rena Reiser, a certified health coach, certified Intuitive Eating counselor, and owner of Mind Over Munchies explains, "A health coach is not meant to treat medical or psychological conditions. They are meant to help people figure out how to incorporate healthier choices and activities into their lives, often by helping them to follow the guidelines provided by a healthcare practitioner. The job of a health coach is to help a client move forward by using readily available tools, such as meal planning, scheduling, or mindfulness activities." A responsible health coach will never give advice specific to a medical condition, but will know to refer out.
Speaking of referring out, do you know that the check out clerk position at Whole Foods requires no nutrition education at all? Shocker. But many people take nutrition information from Facebook, from friends, and from professionals in completely unrelated professions. Sleep coaches, gym trainers, and dog walkers are very quick to give advice. It's your job to ask for credentials.
What about the weight?
If you want to lose 10 pounds or 110 pounds, you want someone who can take all of your health factors, including your mental/emotional state, cooking abilities, budget, health history, genetics, and many other factors into account. This is a skill that comes from solid education, supervised practice, and experience.
More so, different nutrition professionals espouse different theories. I consider myself a non-diet dietitian (read more about that here). This means that I don't believe that the scale is the best indicator of health, but rather that objective data like blood tests as well as subjective data like mood, energy, and sleep are more valid indicators of health and health progress than the movement on the scale.
I teach my clients how to develop a healthy relationship with food for themselves and their children by eliminating guilt. We can enjoy food while taking cues from our own body as far as when to eat, what to eat, and when to stop.
This might not resonate with you. You might have to do some shopping before finding the right fit (yes, pun intended- I always intend my puns). That's ok, no offense taken. You still want a professional who brings a whole bag of tricks that can be personalized to meet your needs and your body.
Still wondering why you should choose an educated and credentialed professional? Weight fluctuations can indicate more than too much cheesecake. When treating undesired weight with crash diets and pills, a serious underlying condition may be missed.
Recently a colleague saw a client who was frustrated with rapid weight gain, a client who came to her after being advised restrictive dieting and diet pills, under the supervision of a "vitamin lady" failed. The intuition that came from this dietitian's education and experience told her to quickly refer to an endocrinologist who subsequently discovered a pituitary tumor.
Your body. Your needs.
Why should I care?
Why should you care? It's your body and you should treat it like it belongs to somebody you love. That's why.
Nutrition advice is medical advice. A bachelor's in Nutrition is a pre-med degree. That education is irreplaceable. The critical thinking and reasoning that comes with a formal nutrition education can't be replicated by any number of magazine articles or isolated online courses.
When you bring your health concerns to a qualified, educated, and properly credentialed healthcare practitioner, you know that the professional in front of you can take your symptoms, lifestyle, abilities, and goals all into account, taking textbook knowledge into real life for the benefit of your health.
You can also be confident that this professional knows his or her scope of practice and will refer your elsewhere when you need a different type of assistance.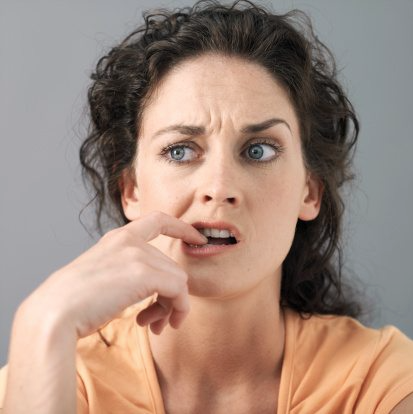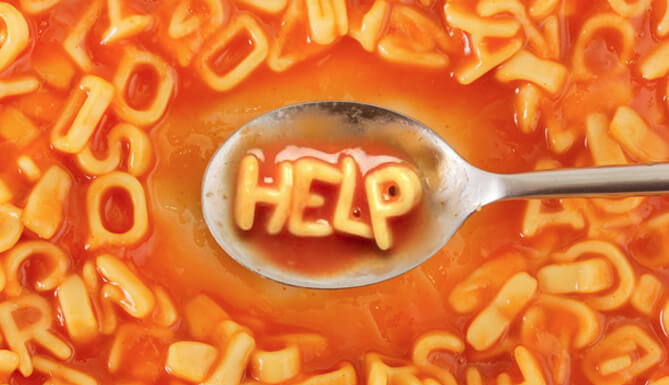 So can any nutritionist help you get pregnant?
Can any dietitian help you work through an eating disorder?
Can any health coach help you improve your energy level?
No. No. And no.
We live in a world of specialization. You wouldn't go to an optometrist for a pap smear, right? You wouldn't go to a psychologist for a broken toe. Yes, they both went to medical school and at some point had the same standard base of knowledge. But they specialized.
Much like doctors, or lawyers (or musical instrument teachers for that matter), nutrition professionals pick a speciality and immerse themselves in it. I specialize in maternal and early childhood nutrition. So if you are an elderly man with diabetes, I can answer a few basic questions, but for anything more, I would point you in the direction of an RD, CDE (certified diabetes educator).
Likewise, if I am counseling someone and it becomes apparent that there is an underlying eating disorder, I refer out to a CEDRD (certified eating disorder registered dietitian), who will then also involve the appropriate eating disorder therapist.
But sure, come to me with all of your diabetes and eating disorder concerns. Because I have networks and while I'm not the best fit for you, I can certainly help guide you toward an educated and credentialed nutrition professional who can help you attain your best health.
Professional Transparency
Did you know that you have a right to ask to see proof of someone's education and credentials? Most doctors display their degrees on their office wall (wouldn't you, after all that???)
Furthermore, education is public knowledge. If you suspect that someone isn't being upfront, you can contact their educational institution and find out for sure.
Family Educational Rights and Privacy Act (20 U.S.C. § 1232g; 34 CFR Part 99) protected the educational privacy of students, but also defined what would be public knowledge. The following may be available to you, as a member of the public, if you contact the school of said professional:
Student name
Addresses (e.g., local, home, mailing and ASU e-mail, including directory number)
Telephone numbers
Date of birth
Degrees, honors and awards received
Most recently attended educational institution
Academic level
Major
College
Dates of attendance
Enrollment status (e.g., undergraduate or graduate, full-time or part-time)
Participation in officially recognized activities/sports
Weight/height of members of athletic teams
And…
For a fee of $14.95, you can access the degree, title, major, and year of any graduate from any accredited school in the United States by accessing the National Student Clearinghouse.
But what about you?
Yaffi, I just paid $14.95 to check up on you and I found nothing! Are you a quack?
No, I'm not a quack. And that's why you should have finished reading before whipping out your checkbook.
Yaffi Lvova is not my legal name. I'll wait while you gasp.
If you want to check on my education and credentials, you'll have to look under Lindsay L'vov. Yeah, I know. Keep reading for the full explanation on that if you like, but if that's good enough for you, you can check out proof of my degree from Arizona State University, my initial credential certificate from the Commission on Dietetic Registration (CDR), and my current CDR card proving that I took my ethics class (as well as a whole lot of other continuing education in my specialty).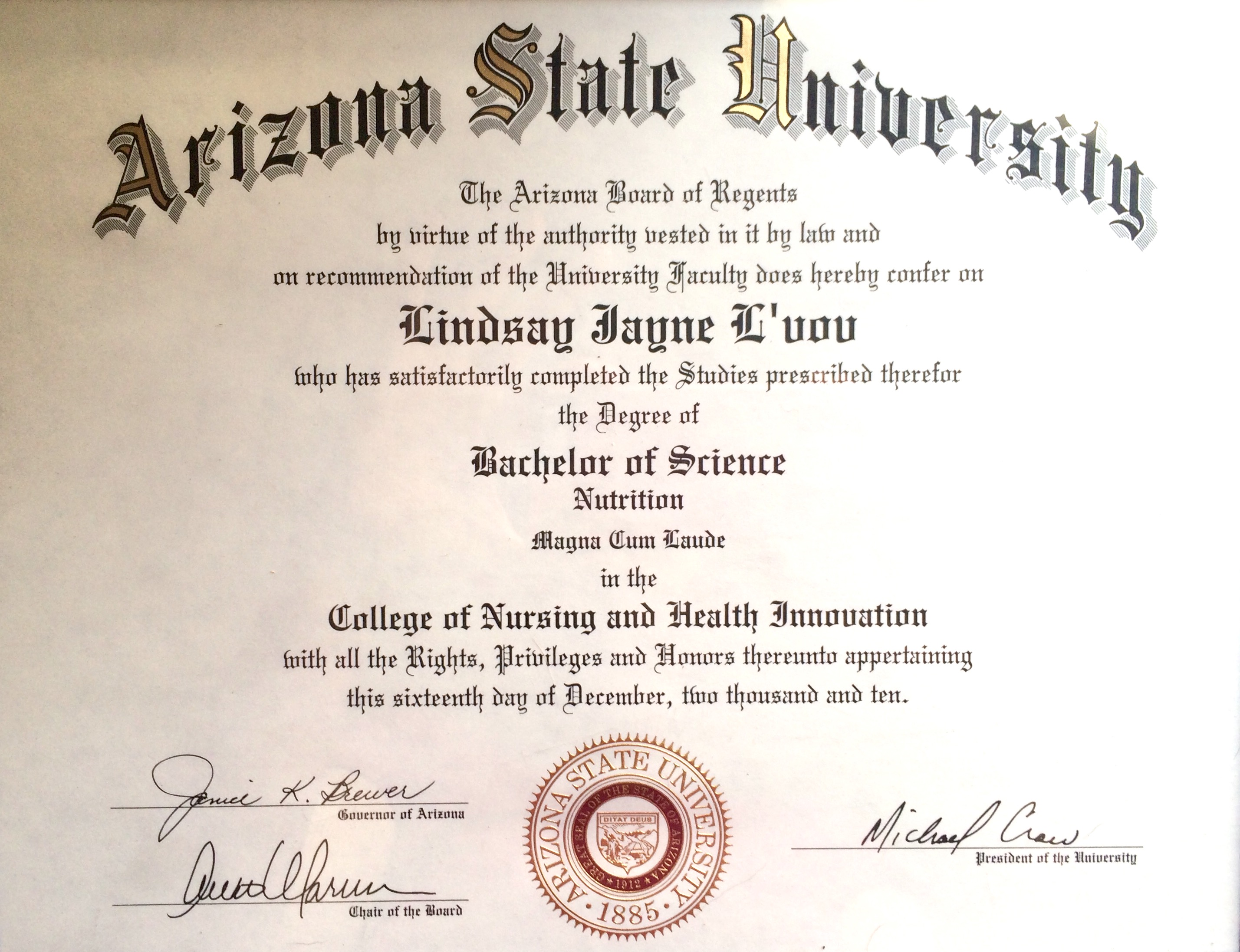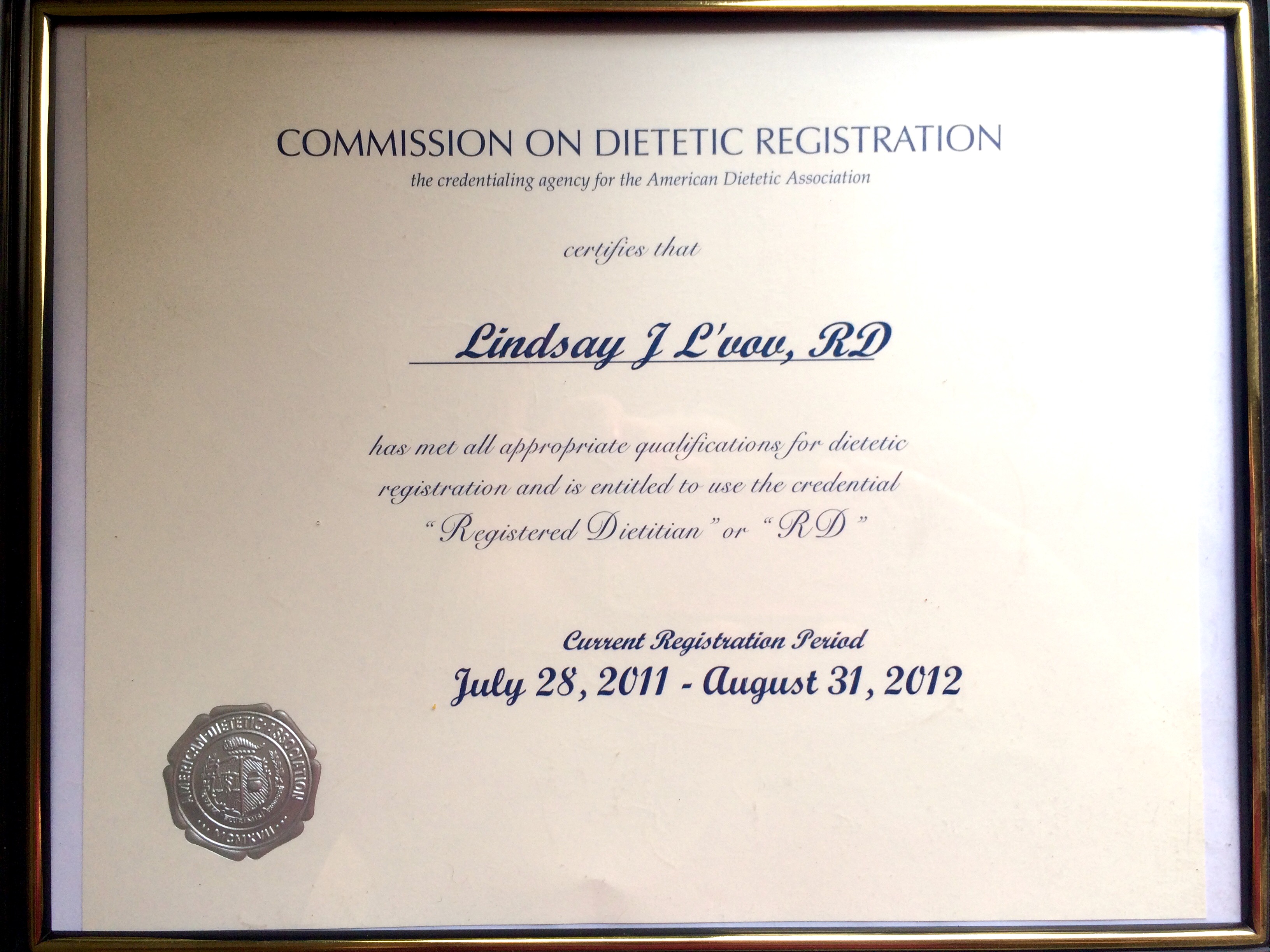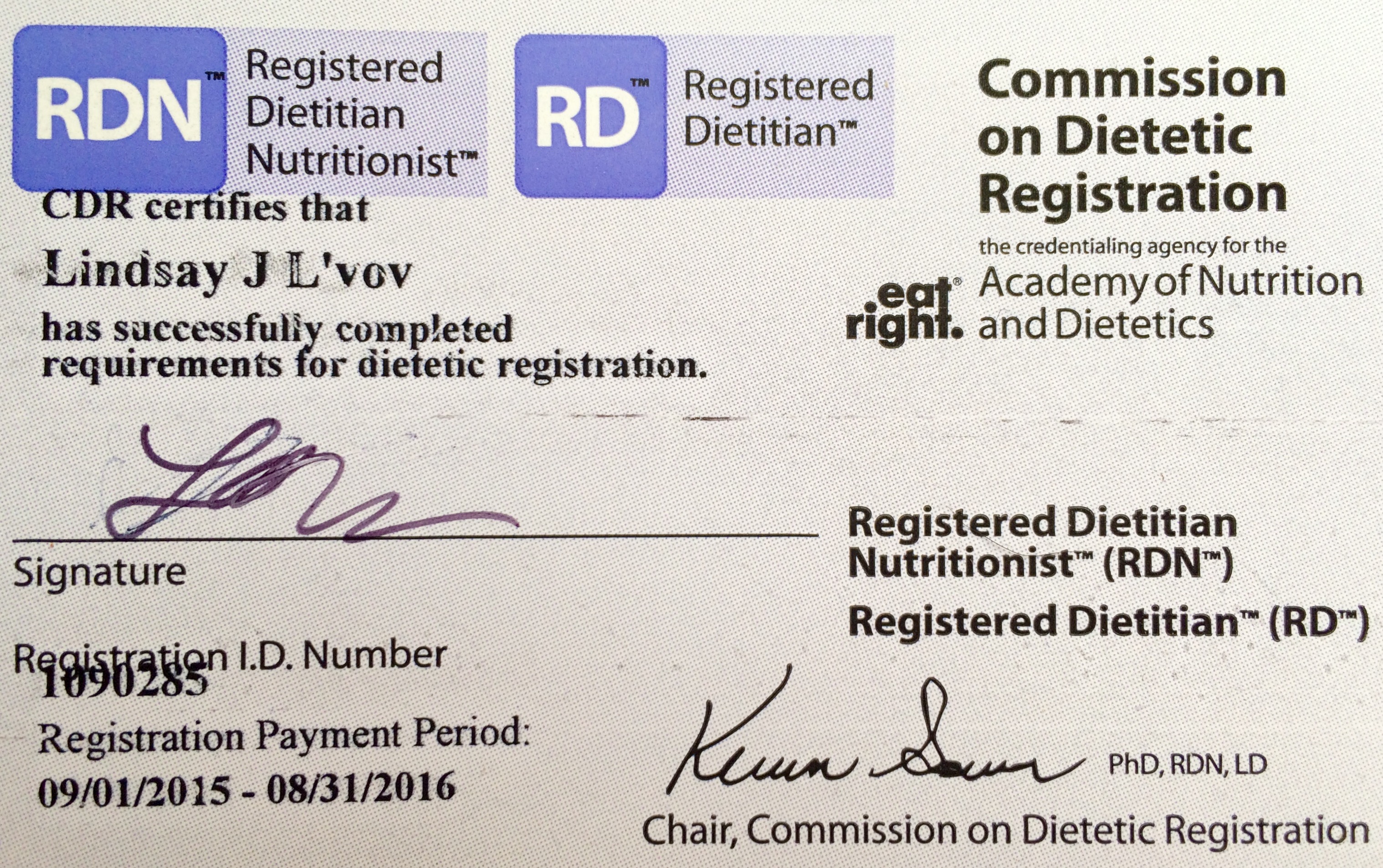 Is it true you're not licensed???
Yes, I'm not licensed. Why? Because I am in Arizona, and licensure is by state. Currently, there are 4 states in the US that do not license dietitians. Arizona is one of them.
What's the difference? There are some details as far as tests I'm able to order and insurance charges I'm allowed to claim on behalf of my clients. There is absolutely no difference as far as my education, credentials, or ability to help clients overcome any nutrition obstacles within my scope of practice.
Those with the CNS credential described above are also subject to state licensure. Even more interesting is that in states that license the CNS credential, practitioners can also use the credential LDN (licensed dietitian).
It's all pretty confusing. And very political. But it all comes back to knowing your practitioner and the degrees, supervision, experience, and credential that back him or her up. Ask yourself this: "Does this person have something to defend?"
All the gossip…
OK so you really want to know the whole name thing?
When I was born, I was given two names. The secular/legal name was Lindsay Jayne. The Hebrew religious name was Yaffa Leorah. "Yaffi" is a nickname for Yaffa. As much fun as it is to have two names, or really four, all legal documents are in my secular name and that can be confusing.
So then I went and got married. And I married a Russian guy with a dubious apostrophe in his last name. And I thought the apostrophe was cute, but it turns out it's just a pain. And now I'm stuck with it. So I stopped using it, but it remains in my legal name. AND in many Russian last names, the female version ends in an -a (Anna Karenina was married to Alexi Karenin, for example), but try explaining that to the DMV. That was a no-go.
So there you have it. That's how Lindsay Kalmenson became Yaffi Lvova, RDN.
The upshot
If you're seeking nutrition (medical) advice, don't get it from Facebook. Don't get it from friends or third cousins of neighbors who had a mole that looked just like that… Find a nutrition professional (or dermatologist… geez) who is up front with their education and credentials. If you have questions, ask.
And your questions go unanswered, either start a new search, or go looking for those answers yourself.
But if your request for credentials is met with a demeaning attitude or hostility, run the other direction.
Non-Diet RD?
And if you want to know more about what it means to be a non-diet RD in a family practice read more here!